Looking for a 7-star experience? Have a preference for the palatial? Here are some hotels and resorts aimed at satisfying your craving for the lavish and luxurious!
The 13, Macau
At The 13 you'll feel part of a Baroque fantasy.  Elaborately detailed scrollwork, vaulted ceilings clad in gold, black and white patterned marble floors, pastoral frescos and heavy gold-fringed velvet drapes are featured throughout this opulent palace. Highlights of the décor also include stained glass windows, neo-classical columns and spectacular crystal chandeliers.
The hotel has 200 opulent suites ranging from 600 to 9,000 m2, each with its own marble Roman bath. There is a 24-hour butler service, and customised Rolls-Royce Phantoms chauffeur guests to and from Macau's famous casino, restaurants and the airport. Guests can dine in luxury at the 3 Michelin star restaurant, and will also have exclusive access to 'bespoke, couture and limited edition products from luxury brands'.
The 13 was reportedly built for a staggering $1.4 billion, and opens in the middle of 2016.
Four Seasons Hotel George V, Paris
Built in 1928 the Four Seasons Hotel George V redefines elegance and grace. Breathtaking floral displays created by the award-winning Jeff Leatham are scattered everywhere throughout the entrance. Crystal chandeliers, gilded 19th-century furniture, and Flemish tapestries in the public spaces and the spacious 500-square rooms add to the luxe experience.  Enjoy fine dining in the two-star restaurant Le Cinq overlooking the hotel's beautiful courtyard.
The low-lit but sumptuous spa has 11 treatment rooms and a range of therapies including aromatherapy massages, chocolate treatments and jet-lag recovery. The hotel is located near the Champs-Elysees in the heart of Paris' most upscale shopping district.  Brands such as Hermès, Givenchy and Chanel are all within easy walking distance, as are the Eiffel Tower and the Arc de Triomphe.
Burj Al Arab Hotel, Dubai
In a nod to Dubai's seafaring and pearl diving past, the striking Burj Al Arab hotel is shaped like a sailboat, perched on the edge of the sea.  It's known as the world's only '7-star hotel' and it's not hard to see why.  The pillow menu has 17 choices. Hermès products and your own personal butler are standard with a suite booking.  The turndown chocolates are gold-leafed, and abundant, beautifully presented on a plate of fine white china.
In keeping with the ocean theme, the décor features luxurious carpeting and drapery in blue, gold and green, with white marble floors, and staircases with ornate gold balustrades. Sparkling fountains greet you in the foyer, which is a fantasy of richly-coloured carpet, gold leaf, light and space.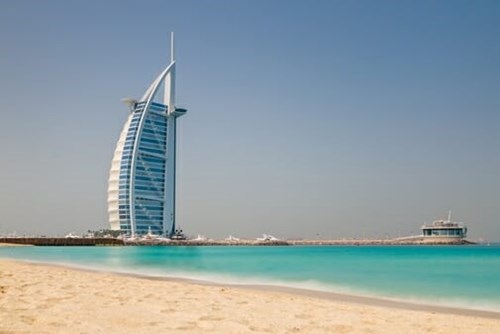 There are nine signature restaurants in total, perhaps the most memorable being the magical Al Mahara, where guests can dine at intimate tables set alongside a huge tropical aquarium. 
Tiger Woods has tee'd off on the helipad, Naomi Campbell booked the entire hotel for her 36th birthday, and it's rumoured that a guest brought in their own dead crocodile for the chef to cook.  'Stay different' is the hotel's motto.
Ritz-Carlton Hotel, Moscow
This Ritz-Carlton is a wonderful combination of imperial style architecture and modern luxury. Celebrities and business travellers from Russia, the Middle East, China, and the West enjoy its famous attention to detail and old-world charm. 
The hotel is located next to Red Square, close to the Kremlin and Lenin's tomb, with a view of the pastel and gold domes of St Basil's Cathedral.
As you arrive, the doorman warmly welcomes you, opening your car door while simultaneously raising his hat. A lobby attendant in a smart black uniform ushers you to reception and ensures a quick check-in. The hotel still employs a Master de Sabrage sommelier, who removes the cork of your Roederer bottle with one swift cut across the neck from a sabre.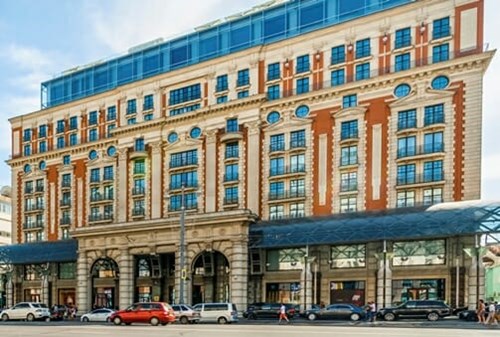 Alternatively you can enjoy an authentic welcome ceremony with bread and salt along with a traditional vodka tasting.  There is a first class spa, offering a range of treatments, and the amenities are Bulgari. The gastronomic restaurant serves refined Georgian cuisine, and the rooftop lounge bar is famous for its views over Moscow in summer. In winter, the bar transforms into an ice bar, complete with warm clothing for guests.
The Palms Casino Resort, Las Vegas
For Las Vegas movers and shakers, The Palms is the ultimate in comfort and luxury. In true Vegas style this 3-towered casino hotel boasts its own 8,800m2 casino, a recording studio, and a 2500-seat theatre.
Take in the view from Ghostbar 50 stories above the city, boogie down at Rain, Las Vegas' hottest dance club or enjoy dinner with a view of the famous Las Vegas Strip at the Michelin-starred Alizé.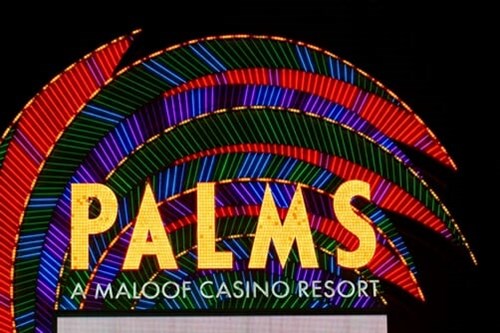 Basic room amenities start at a 46" HD TV, pillow-top mattresses, a media hub, spa-like bathrooms and extended music channel selections.  From there, it's all the way up to the double-storied Sky Villa, a luxury rooftop suite with its Jacuzzi overhanging the Strip, a private glass elevator, massage room, dry sauna, butler service and full bar.
This content was compiled by AGA Assistance Australia Pty Ltd ABN 52 097 227 177 trading as Worldcare and Allianz Global Assistance (AGA) in March 2016. While every effort has been made to ensure the accuracy of all information as at the date of publishing, AGA does not accept liability for any errors or omissions.