If you're after the adventure of a lifetime, why not consider a luxury cruise for your next trip? Smaller ship sizes mean higher staff-to-guest ratios, so you'll enjoy more personalised service and fewer crowds. Because luxury cruise lines include pretty much everything in the price, you shouldn't need to worry about tipping, drinks or transfers, so you can just relax and take it all in. Shore excursions are usually longer and often feature guided tours and authentic activities.
The ships are generally smaller and can access ports from which larger cruise ships are prevented from entering - so you can choose more interesting and off-the-beaten-track destinations. Larger cabins, enrichment programs, luxury day spas and fine dining at a make for the perfect relaxing holiday.
Let's have a look at some of the world's best luxury cruises!
Hapag-Lloyd – Europa 2
The Europa 2 ship, belonging to the Hapag-Lloyd line, is regarded as one of the best small cruise ships available. Awarded 5 stars plus by the Berlitz Cruise Guide 2019, this delightful German vessel holds a maximum of 500 people.  All cabins feature balconies as there are no interior cabins - so you will be guaranteed a beautiful view wherever you are.
Enjoy a welcoming champagne on arrival in your luxurious and spacious cabin - accommodation options range from 35 m² to a massive 114 m² in size. There are 7 gourmet restaurants, several lounges, a program of activities for children, entertainment and many original artworks to enjoy. For a real touch of luxury, book the private personal spa which features a sauna, a whirlpool, massage tables and comfortable relaxation facilities.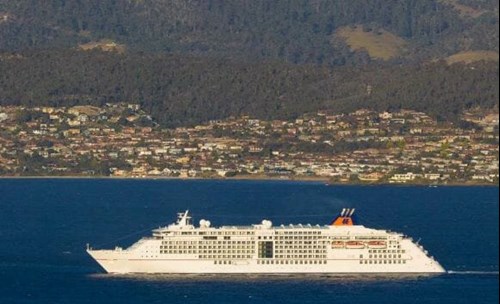 Europa 2
The Europa 2 travels to many destinations around the Mediterranean, Europe, Russia and Africa including Dubai, Mauritius, Greece, Cape Town and more. Some popular cruise options include Hamburg to St. Petersburg, Istanbul to Piraeus (Athens) or Civitavecchia (Rome) to Monte Carlo.
Lindblad Expeditions
Lindblad has partnered with National Geographic in a cruise series featuring some of the best available scientists, naturalists and researchers to enrich your knowledge of the natural world. It's like being on a boat with your own Charles Darwin!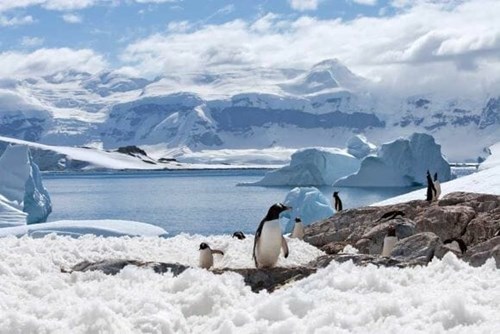 Lindblad Expeditions cruise to Antarctica
With skilled specialists using state-of-the-art exploration tools, you can explore and photograph the stunning natural environments of Antarctica, Alaska and the Galapagos islands, among other spectacular destinations.
Regent Seven Seas Cruises
If you prefer a larger ship with more stability on potentially rough seas, as well as full amenities and the best quality cabins, then the ships offered by Regent Seven Seas Cruises such as the Seven Seas Mariner, Explorer and Voyager are a good choice. The informal but elegant Regent range of cruises offers you many of the world's most interesting destinations.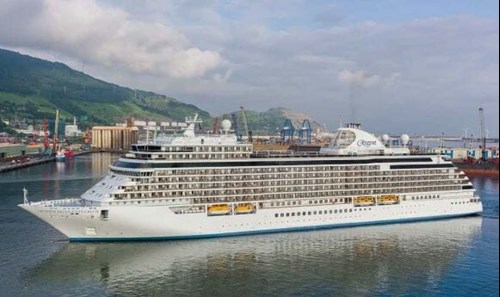 Regent Seven Seas Explorer
Regent cruises to many ports, but for the ultimate in Mediterranean experiences try their Istanbul to Dubai leg; for Asia Pacific try Singapore to Bangkok; or for a more exotic touch, there's Africa and India (e.g. Lisbon to Cape Town).
Enjoy Regent's enrichment programs including personalised lectures from some of the worlds most distinguished and engaging speakers on art, museums, history, politics, sociology and your particular destinations.
Depending on your choice of cruise, free economy airfares, shore excursions, many on-board activities, drinks and gratuities should be included in the price. With 24-hour room service, your choice of specialty restaurants and a complimentary pre-cruise hotel stay before each cruise, you'll savour a relaxing luxurious holiday from end to end.
Crystal Cruises
Nightly turndown, Frette bathrobes, fresh flowers and room service are just some of the included on-board luxuries you'll experience with Crystal Cruises.
Crystal travels to many destinations, but consider the Incan Immersion tour featuring the Panama Canal and Machu Picchu, or the South America and Antarctic experience to trace the route of Sir Francis Drake and the early explorers (Cape Horn, Drake Passage and Tierra Del Fuego).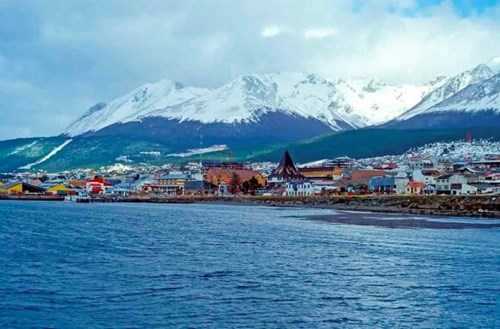 Ushuaia in Tierra Del Fuego, Argentina
The Crystal ships offer enrichment programs – language classes, quality golf lessons and wellness seminars. Shore excursions feature escorted tours with a personal guide, as well as markets, cooking lessons and optional 'voluntourism' experiences.
https://www.crystalcruises.com/
APT Luxury Touring & Cruising
If river cruises are more to your taste, try an exquisite river journey along China's Yangtze River with APT. APT has several tours in China but the Yangtze has arguably the most stunning natural scenes and fascinating history.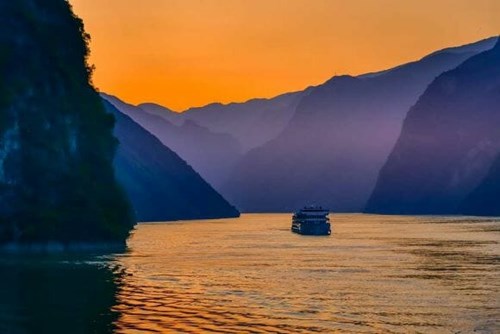 Yangtze River, China
You'll enjoy an intimate and luxurious boutique river experience as guest numbers are in the double figures. View the region through the eyes of locals as English-speaking local tour guides provide insight and history. Small group shore excursions include the 'Ghost City' of Fengdu, a Shennong Stream sampan cruise and a tour of the gigantic Three Gorges Dam.
Tipping is included, as well as some transfers and sightseeing expenses.
Cunard Cruises – Queen Mary 2
Probably the ultimate bucket list item of all luxury cruises, the iconic Queen Mary 2 is the flagship of the Cunard fleet. While not exactly a small ship (it's in fact the largest ever cruise liner built to date – a massive 345 metres long), no luxury cruising list is complete without listing this grand vessel.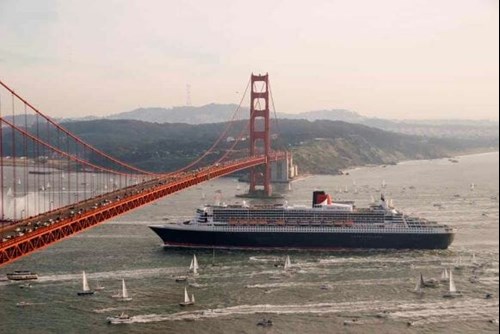 Queen Mary 2 at San Francisco
The Queen Mary 2 cruises all around the world – check out the website to see where you may wish to go and at what times.
https://www.cunard.com/en-au/cruise-ships/queen-mary-2/9
*Please note that Worldcare does not have any commercial arrangements with the above mentioned cruise companies. We've provided them as examples to help you plan your next great cruise! Whilst all care has been taken to check the information provided (as of June 2019), you should check with the individual cruise provider before making any bookings in case details change. Policy holders will need to purchase the optional cruise pack for an additional premium to obtain cover for cruising activities.