First Class air travel is a privilege very few get to enjoy, and that's part of what makes it so special. Every component of the trip – transfers, lounges, onboard comfort and amenities, immigration processing and even showers – is designed to be smooth, luxurious and well thought out.
Take a look at what those extra thousands of dollars get you when travelling to Europe, the US, Bali and New Zealand.
Australia to Europe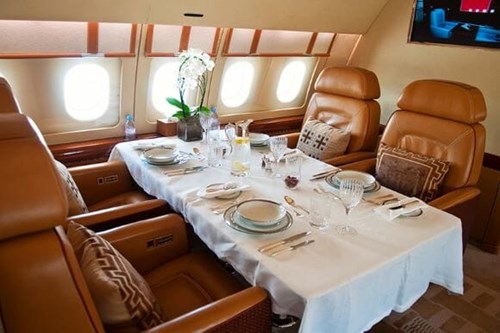 Customers are truly spoiled for choice for luxury air travel to Europe. How do you like the idea of seating that's inspired by the Mercedes-Benz S Class automobile? Quite apart from the clever mood lighting designed to reduce the impact of jet lag and the kelp-infused moisturising pyjamas you can lounge around in, Emirates' first class suite is even decked out with hardwood floors.
For those unfortunate passengers forced to suffer the indignity of flying in a centre cabin suite, mock windows are in place that beam in the outside view so that every suite is, for all intents and purposes, a window suite. You wouldn't want to miss the sight of Geneva looming into view as you come in to land, would you? Sale pricing for return flights from Sydney to Manchester, for example, are $12,025.
Singapore Airlines pioneered fully-enclosed first class seating on their A380s and offer six suites for the very well-to-do. Expect to dine off Wedgewood china and have the flight attendant tuck you in under exquisite Lalique bedding on your fully flat bed which is separate to your cosy leather recliner. The 32-inch HD TV swivels for optimal viewing and your clothes can be hung in the full-size wardrobe. Your ticket will cost around $12,425 from Sydney or Melbourne to London or Paris.
What if money was no object and you could choose "better than first class"? Well, friends, that is indeed an option, thanks to Etihad's A380 'residence' suite. The luxury appointments are a cut above those of other airlines but a major point of difference is the butler service. Trained by London's Savoy Butler Academy, they are on hand to attend to your every whim.
Have your butler turn down your double bed, serve your haute cuisine meals at your exclusive dining table and serve you cocktails from your own minibar. Stretch out in the living room and select from a mind-boggling array of channels on the LCD television screen. Arguably, one of the most compelling features is the onboard shower! Etihad's Australia to London route will set you back around $40,000 and has been created to be on par with a private jet experience.
Australia to the US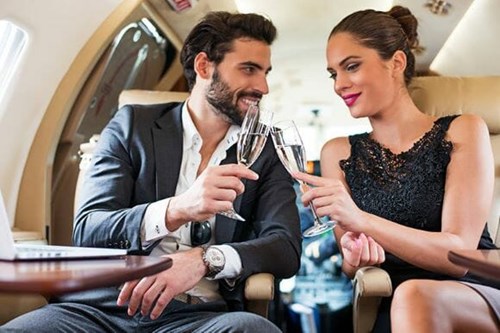 Lady Liberty may smile upon those reaching New York's fine shores but Lady Luxury will beam upon those entering Qantas's First Class suites. The journey to New York includes a stopover in Los Angeles but you will be supremely cared for in the Qantas lounge at LAX.
Seating adjustments allow you to face forward or swivel to dine with a companion. Use the touch screen panel to swivel, to manage your lighting and entertainment choices, raise and lower the window shades and to enjoy an in-seat massage.
Dine on celebrity chef Neil Perry's award-winning in-flight cuisine; dress for dinner or go ultra-casual in your complimentary Martin Grant pyjamas. You'll love freshening up with the ASPAR products found in your high end amenity kit.
Your Qantas journey begins with a complimentary transfer service and the company's First Hosts are on hand in the Sydney and Melbourne lounges to anticipate your needs. You'll enjoy dedicated boarding and be fast-tracked through immigration upon arrival. A Sydney to New York trip will cost around $11,653.
Etihad departs Sydney, Brisbane, Melbourne, Adelaide and Perth for North American destinations and their First Class return fares hover at around $14,650 from Australia's east coast. If you're a foodie, then you won't want to sleep through the meals! From the pre-flight drinks and Arabic coffee served with dates to the amuse bouche, lemon sorbet palate cleanser and divine desserts, the main courses are just a part of the overall attraction.
When it comes time to sleep, the ceiling of the cabin is festooned with sparkly starlight. Your clothes will be wrinkle-free after hanging in the seat-side closet, and so will you after reclining in your wonderfully soft lay-flat bed.
Australia to Bali
Indonesia's national carrier Garuda offers Business Class flights to Bali. Fares from Sydney sit at around $1,856 on an Airbus A330 to Soekarno Hatta International and a Boeing 777 for the leg to Denpasar. Window seats are available for solo travellers and the middle seats are configured in pairs.
Beautiful L'Occitane amenity kits are provided as well as slippers, pillows, headphones and bottled water. Your meals will be served on chinaware and drinks in glassware, and you certainly won't have to deal with plastic cutlery.
Wines are French, Italian and Australian and your coffee will be made to order using Sumatran beans. Lie flat in your seat to sleep peacefully and revel in the starry sky effect on the roof of the cabin.
Australia to New Zealand
When your flight is only 3 hours such as it is from Melbourne to Auckland, it may seem a bit indulgent to fly First Class. But then that's what First Class is all about! Why not indulge in three hours of privacy, luxury and personalised attention? On the Emirates A380, you'll have access to a 5-minute onboard hot shower and superb lounges when you fly across the ditch.
Only Emirates offers a First Class experience to NZ. You can lie flat and nap for three hours or select from your personal minibar to begin your holiday on the right note. There's even an onboard bar with seating for four people so you can mix and mingle with other First Class and Business passengers. Return fares are around $2,260.
A rare and wonderful experience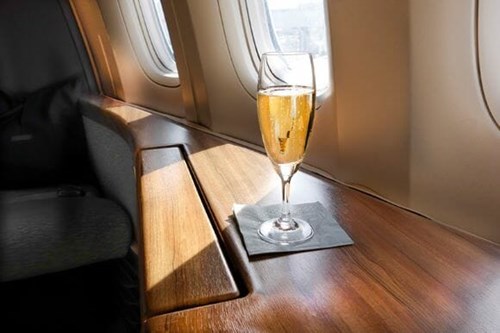 Unless you're a high-flying (pun intended) corporate giant, an A-list actor or a famous rock star, you may not think it's worth the big bucks to go First Class. But if you land a windfall, it's really an experience you should try at least once in your life. Don't forget the travel insurance though. You do not want to miss that flight and forfeit your fare because of unforeseen circumstances beyond your control!
References
http://www.traveller.com.au/emirates-unveils-new-mercedesbenz-inspired-firstclass-suites-for-boeing-777s-gzjtu4
http://www.traveller.com.au/better-than-first-class-etihad-unveils-luxury-a380-residence-suite-zr4ki
http://www.traveller.com.au/photos-singapore-airlines-a380-new-seats-unveiled--first-class-suites-business-premium-economy-and-economy-gzdac6
https://www.firstclass.com.au/airfare/singapore-airlines-to-europe-first-class/4451
https://www.firstclass.com.au/airfare/emirates-to-europe-first-class/4454
https://www.qflyer.com.au/editorials/qantas-first-class-a380-review
https://pointsfromthepacific.boardingarea.com/2017/05/08/review-etihad-777-first-class-new-york-abu-dhabi/
https://www.businesstraveller.com/tried-and-tested/flight-review-garuda-indonesia-b777-300er-business-class/
https://www.pointhacks.com.au/reviews/emirates-a380-first-class-trans-tasman/