We look at the entertainment, nightlife and other things to do at ski resorts around the world.
St Anton, Austria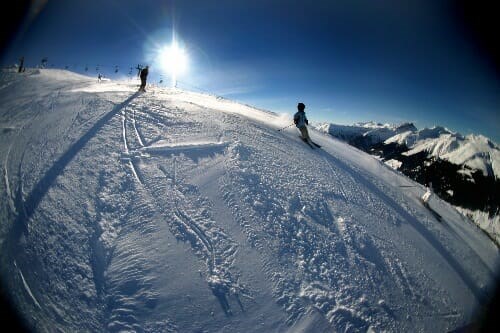 St Anton is known as the cradle of Alpine skiing, with perfect powder, plus charming Tyrolean lodges and ancient stone farmhouses. Après ski is taken very seriously here and there are many bars, clubs and pubs to choose from.
For luxury and privacy, try Hotel Tannenhof, originally built in the 1920s and located in the sunniest spot in this lively village. 
The hotel features an outdoor sauna and jacuzzi with a view of the mountains, as well as an on-site massage therapist to soothe away those post-ski aches.  Plus, with only 7 rooms, a fine dining restaurant and an exclusive chauffeur service from the airport, luxury, exclusivity and relaxation are at your fingertips.
Cardrona, New Zealand
Unwind and warm up at the historic Cardrona Hotel, the most photographed pub in New Zealand.  Built during the 1860's gold rush and now heritage-listed, every care has been taken to preserve the artefacts and atmosphere of the last century.  Start with post-ski drinks in the cosy guest lounge, followed by a dip in the spa pool before dinner.
Or for something different, chill out at Cinema Paradiso, Wanaka, after skiing the amazing powder at Cardrona.  Catch a classic in the cinema and enjoy freshly baked cookies with ice-cream in the interval.
Gibbons Whistler, British Columbia, Canada
The Gibbons name has been associated with Whistler for over 35 years, and Joey Gibbons' resort takes après ski to a new level.  The resort has five iconic bars ranging from casual to cosy, and a craft brewery and distillery. Whether you'd prefer dining in a gondola, enjoying oysters and champagne after conquering a black run, a raft of young bucks delivering après cocktails, or a hot rock massage on a mountaintop, you're sure to find something that suits your mood.
Sölden, Austria
If you're looking for more of a party atmosphere, try Sölden.  The fun starts mid-afternoon and continues to the small hours.  Sölden has discos, nightclubs and pubs in abundance. Choose from a quaint mountain hut licensed cafe, an umbrella bar to soak up the winter the sun, or one of the town's many pubs before hitting the nightclubs.   The scene is lively, good natured, and young.
If you're traveling with a family, try Heustadl, for its cosmopolitan family atmosphere and live music on most days.  Enjoy drinks and swap post-ski tales on the large outdoor terrace, positioned to catch the winter sun.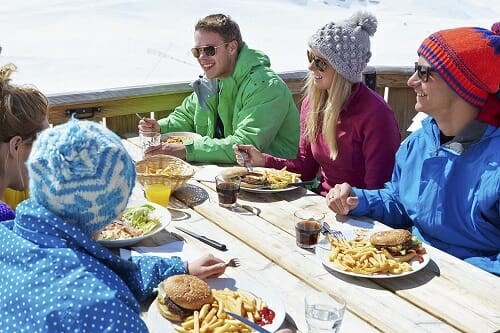 Telluride, Colorado
Telluride began in the 1800's as a mining town and something of its raw trailblazer atmosphere still remains.   The New Sheridan Bar in Telluride is frequented by locals; dress is strictly casual with not a new cowboy boot or button-down collar in sight.
The bar was built in 1895 and has been preserved with care since then. The mahogany paneling, filigree lamps and lead glass dividers remain unchanged.  Only the miners have been replaced with skiers relaxing after a day on-piste.   The Parlour has one of the best wine lists in town, while the lively Chophouse's beautiful long bar offers classic steak house cuisine featuring the best of mountain game, aged beef or bison.
Hakuba, Japan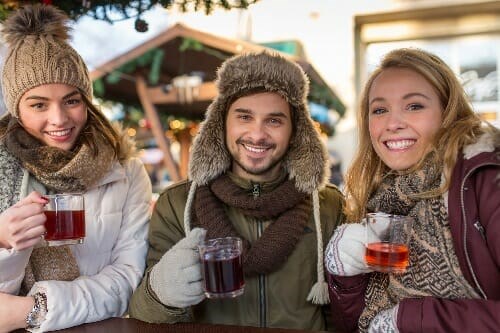 Hakuba has no less than 10 ski resorts in the Japanese Alps, and the area is famous for its Onsens (natural hot springs).
For serenity and relaxation, the Green Plaza Onsen offers fine views of Mt Fuiji in an open-air hot bath. 
Alternatively, at the wild monkey Onsen at Jigokudani you can see wild macaque monkeys frolicking and soaking in the natural hot mineral springs.
There are many hotels in the area to choose from, as well as outstanding shopping and eating choices.
Are, Sweden
If you visit Scandinavia in December or January be prepared for it to be pretty dark, however you can be sure of packed powder right through to April when it is a lot lighter.  As well as reliable snowfall, Are has everything from forest runs to lake skating to zipwires, ice-fishing and dogsledding.  Afterwards, relax with the warmest and most welcoming crowd of locals and the famous Swedish nightlife at one of the many resorts along the picturesque lake. 
Fjällpuben (literally 'mountain pub') is a smart but cosy restaurant specialising in regional dishes such as Arctic char, whitefish roe and reindeer.
Bygget is one of the most popular bars in the area; if you stay long enough it transforms into a nightclub towards the wee small hours.
Wallmans restaurant features a live cabaret with the wait staff.  It also hosts the Dippan après-ski bar and nightclub with live music.


Love skiiing? Get a travel insurance quote and check out our ski pack too!