There's something about a road trip that appeals to the nomad in all of us.
The US has many famous trails (Route 66, anyone?) but there are also hidden gems and unexpected beauty found on many less famous tracks.
1. Autumn colours
The Midwest and surrounding areas abound with radiant autumn reds, golds, crimsons and purples in September and October each year.
The Lake Superior Circle Route features stunning scenery through Michigan, Wisconsin, Minnesota and Ontario, Canada. 2100-odd miles of golden forest, tranquil lake views, roaring waterfalls and lake-shore lighthouses will enthrall and delight you.
Stretch your legs with a stop at the Emerald Drive parking area in Wisconsin, and hike along the Ice Age Trail, a 1600km trail of ice-age landscapes and glacial carvings in the Kettle Moraine State Forest.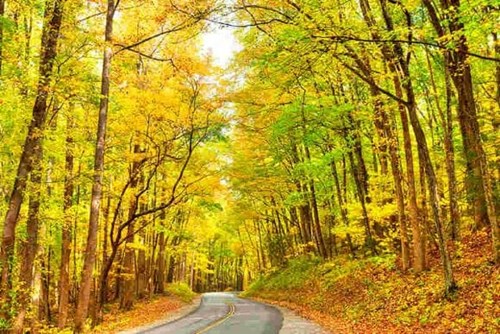 The Appalachian Forests offers scenic mountain-scapes, adventure and eclectic food. Start at Asheville in North Carolina's Blue Ridge Mountains and enjoy its many galleries and artist's studios. Then wander through the stunning Roan Mountain State Park, stopping to enjoy and photograph its spectacular scenery.
Stay a couple of nights at a mountain log cabin, enjoying the crisp mountain air filled with the scent of woodsmoke, the babble of clear running streams, and fishing for freshwater trout.
Autumn colour viewing is a popular activity throughout the US at this time, so it's best to book. Check with the US Forest Service for regular updates on the best places to view.
2. Author's tracks
Follow John Steinbeck, Henry Miller and Jack Kerouac down the rugged beauty of Pacific Coast Route 1. Meander through Big Sur, famous for its winding panorama of huge redwoods on one side and rocky beach cliffs on the other. Big Sur has been immortalised in Henry Miller and Jack Kerouac's works and in the films of Ansel Adams and Edward Weston.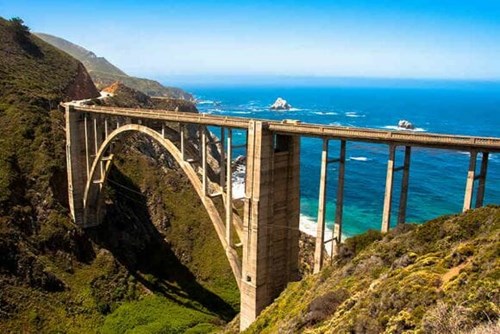 Active residents have preserved its charming historic Spanish heritage and the area has a cosmopolitan vibe and a vibrant arts scene.
3. Road trip blues
Driving from Vicksburg to Memphis, you might hear faint echoes of Muddy Waters, Bessie Smith, B.B. King and Elvis, among others, who travelled this road on their way to Memphis, the birthplace of the blues.
The B.B. King Museum in Indianola tells the history of the black Americans' struggle via the life of this performer. Take a trip to Club Ebony where this legendary musician played, as well as Ray Charles and other famous blues artists.
In Merigold, Cleveland, visit the last authentic rural junk house. Bring your own liquor and buy mixers in-house. The Stax Museum of American Soul Music features the work of Otis Redding, Isaac Hayes and others. Then drive on to Graceland to pay homage to the King.
4. Island hopping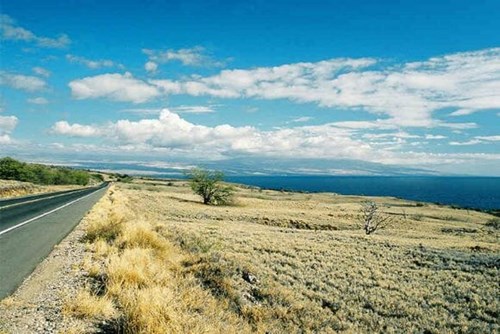 Travel the Eastern and Northern Shore of Kaua'i, Hawaii, for 26km of waterfalls, old plantations, waterlogged caves and the beaches of the rugged Napali Coast.
In Princeville, take a trip up the tranquil Hanalei River or a tour to the beautiful Fern Grotto.
5. Parks and geysers
Start with a dip in the geothermal hot springs at Bozeman, Montana before starting the 220km trip through Yellowstone National Park. Head down to Wyoming for a view of historic Old Faithful's eruptions of steam and water projected high into the air almost hourly.
Yellowstone is famous for its beautiful native wildlife and stunning panoramic views of forests, lakes, mountainsides and waterfalls. Take a break for birdwatching, or rafting if you're feeling energetic.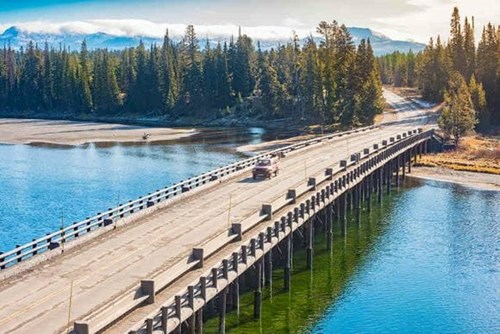 6. Desert escapes
Abandoned mining towns, desert heat, dust and more than 1000 species of exotic flora – all part of the charm of Death Valley National Park in California.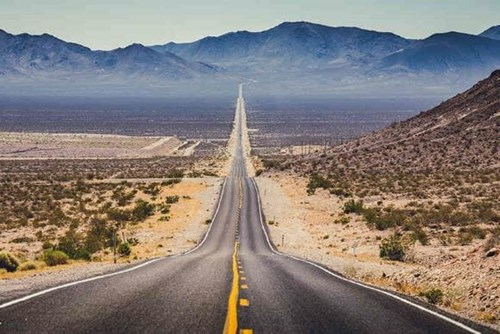 Apart from its stunning natural vistas and sweeping views, Death Valley has also been used as the location for many movies including Star Wars Episode IV, Confessions of a Hitman, and King Solomon's Mines.
Dante's View is a good starting point for a road trip, looking down across the valley to the Panamint Range, for a full view of the size and diversity of the landscape.
Plan to visit 20 Mule Team Canyon, named for the iconic twenty-mule teams used to haul wagonloads of borax from Furnace Creek to the railhead near Mojave, a 165-mile, 10-day trip across primitive roads.
Pay your park entrance fee, pick up maps and view the exhibits at the Visitor Centre at Furnace Creek, home to many resorts and amenities.
Visit DV Junction, now a ghost town but originally a borax-mining centre, which now hosts the Amargosa Hotel and Opera House.