Chocolate is nice, and camping is fun, but if you're looking for something a bit different this Easter, check our list of traditional, crazy, fun or strange Easter destinations around the world.
Germany
In Luedge, revellers celebrate the centuries-old Easter Wheel (Osterraeder) ritual. Large oak wagon wheels carved with symbols representing events from the past year are stuffed with straw, set on fire and rolled down the hill. The burning 'wheel of the year' lighting the darkness and cold is a powerful symbol of the spring equinox and a spectacular representation of the end of winter. 
In Bavaria the charming Easter horseback parade known as the Georgiritt, dates back to the 18th Century.  It is held each Easter Monday to honour St George.  Riders decorate their horses with flowers and rosettes, and clad in traditional costumes, parade towards the church to receive blessings for the spring. The day finishes with ritual sword dances from medieval times.
The Passion Play is one of the longest-running traditions of the Easter period, and Oberammergau is famous for its staging of this traditional Easter story.  Originally enacted during the Black Plague as a means to placate an angry deity, it is now held every 10 years in exchange for God's blessing and protection.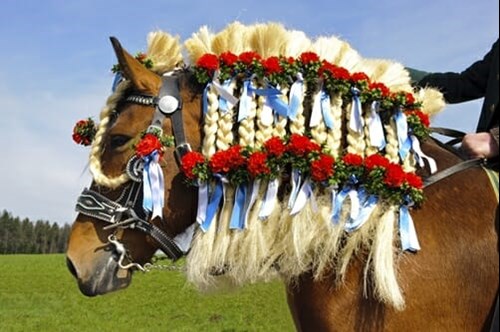 Czech Republic, Slovakia, Poland.
Śmigus-Dyngus (Wet Monday) is an Easter ritual held in many Central European countries. 
On Easter Monday village women dressed in national costume run the gauntlet of the local men and boys as they do their best to soak them with water.  In some villages they are also gently slapped with willow rods – apparently this will help them keep their fertility and beauty in the next year. The celebrations are good-natured fun and in many villages the women get their own back the next day.
Norway
April is an excellent time to go skiing in Norway as there is still good snow cover but temperatures have risen above zero, mostly.  If you are close enough to the Arctic Circle you may catch a glimpse of the northern lights.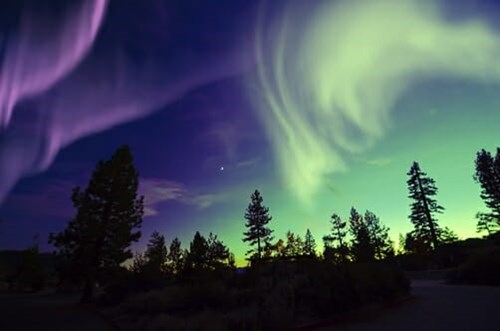 As well as Telemarking cross-country, painting Easter eggs, and eating the world's best chocolate, you can also take part in Påskekrimmen,
a modern Easter tradition involving the latest good reads. Turn off the phone, set a good fire, and curl up with the scariest crime thrillers you can find.  This unique modern festival is celebrated throughout Norway over the 5-day Easter break.  You'll find new releases specially timed for Easter, magazines with new whodunnits – even the milk cartons have short mysteries printed on them.
Greece, Cyprus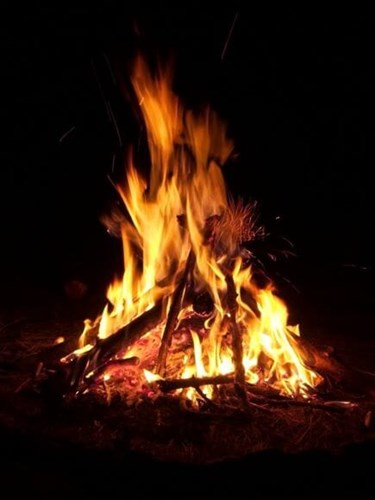 Lampratzia (Greek) or Founara (Cypriot), 'big fire' is an Easter tradition in Cyprus and Greece.  Massive bonfires made of huge piles of scrap wood are set alight usually in the village square. Young boys scour villages for scrap wood, creating huge fires on which to burn an effigy of Judas Iscariot.  In Greece competition for the biggest fire is fierce, with the occasional call to the fire brigade to deal with an over-enthusiastic blaze.  In Cyprus the fire is often accompanied by small dynamite explosions and gunshots fired into the air.  Enjoy an egg bump and traditional Greek shortbread as part of the season's celebrations.
Spain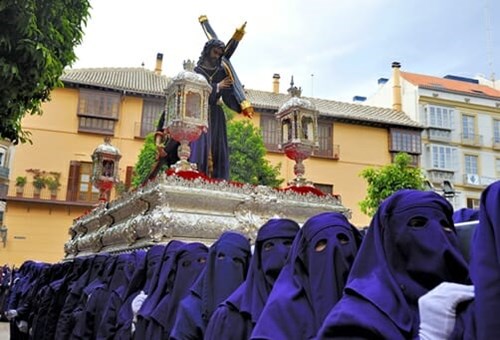 Semanta Santa is the name for Spanish Holy Week celebrations in the week leading up to Easter.  In cities across Spain magnificent elaborate floats made to represent Jesus are paraded through the town, from their church of origin to the cathedral and back again. In Malaga, long processions of participants are dressed in white and parade with candles,
alter pieces, and orange blossom amid clouds of incense.  Tourists from all over the world flock to Spain for this spectacular and moving celebration.
Bohemia and Moravia
As well as finding unique festivals and celebrations, you can also enjoy the season outdoors by hiking or riding through the springtime countryside.  New hiking trails through southern Bohemia and southern Moravia offer outstanding scenery as well as stops at world heritage sites such as Cesky Krumlov, a beautiful village with spectacular views and a 13th century castle.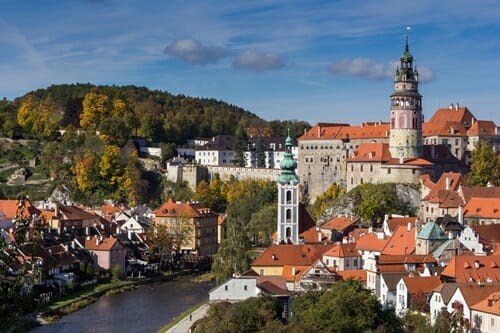 New York
What Easter trip would be complete without the fabulous New York Easter Parade and Bonnet Festival?  Immortalised by Judy Garland in the film of the same name, the Easter Parade developed out of a last-century tradition of well-to-do women showing off their new spring outfits at church on Easter Sunday.
The event features a street parade of New Yorkers dressed in the most wonderful and outrageous hat creations with outfits to match.  Every man and (literally) his dog dresses up in extravagant headgear featuring everything from fruit, flowers and feathers to birdcages complete with live occupants. The parade has been a tradition for almost 150 years, so head down to Manhattan and enjoy the colour and fun. 
Going away this Easter? Get a quote from Worldcare Travel Insurance now!