With at least 4 months of regular snowfall each year, Japan is one of the most reliable snow and ski destinations in the world.
From November to April, every single day is powder day, with daily snowfalls – up to 50cm a day – leaving fresh runs at all ski fields.
Après ski, there are onsens (natural hot springs) where you can relax and rejuvenate those weary muscles after a day on the slopes.
With most resorts keeping prices low to attract younger visitors, Japan is also excellent value, and with the many unique cultural experiences on offer as well it promises a winter experience like no other.
Niseko, Hokkaido
Hokkaido is world famous for its cold, dry, fluffy powder. One of the region's biggest and most famous resorts is Niseko. With its huge variety of ski and snowboard runs catering from beginners to advanced, you could spend all your time skiing or boarding and still not reach them all. Après ski, enjoy the breathtaking snowscape while relaxing in an onsen.
There are many English-speaking guides and coaches here, so even if your Japanese doesn't venture much past kon'nichiwa or arigatō you should be okay.
Tip: the days are short, and there is not much sun, so get on the snowfields early to make the most of the day.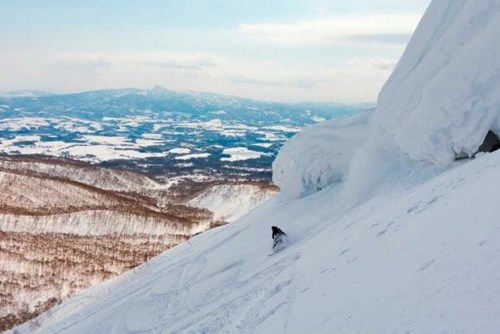 Shiga Kogen
As well as amazing ski and snowboard runs for all levels, Shiga Kogen has the largest group of Japanese snow monkeys in the world. Visit the Jigokudani Monkey Park to see the red-faced snow monkeys relaxing and playing in the onsens.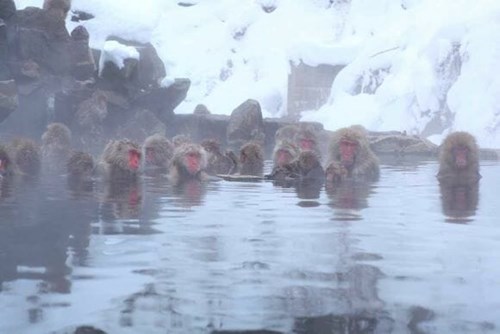 Shiga Kogen also has the most beautiful view of the North Alps, featuring 'snow monsters' that appear as snow and ice forms around the trees at the resort.
Tip: skiing is hard work – give your body a break in the onsens. You're expected to wear your birthday suit, but they are segregated.
Sapporo
As well as outstanding ski runs, the Sapporo Snow Festival in February is one of the highlights of the snow year in Sapporo. Huge elaborate snow sculptures feature detailed life-size pagodas, dragons in full flight, and even beautifully-lit Star Wars characters carved out of solid ice. When you're tired of that, there's the Sapporo Brewery, home of the world-famous Japanese beer.
Tip: Hire your gear in Japan – it is usually high quality and brand new.
Oeyama Ski Resort
Overlooking Kyoto, Japan's original Imperial Capital, Oeyama resort caters for all levels and also offers night skiing. Experience Amanohashidate (Bridge in Heaven) sand bar, one of the Best Three Views in all of Japan. The resort has 2 lifts and is suitable for families, couples and kids.
From the top of Mt Oeyama you can experience a breathtaking sunrise, the clouds shifting from purple to red to blinding white as day breaks.
Tip: you'll probably need more cash than you're used to carrying when travelling, as not all places accept credit cards.
Back country skiing of 
Hokkaido or Honshu
If you prefer to get away from the crowds and enjoy fresh powder, the back country routes of Hokkaido or Honshu are for you. Asahidake ski resort in Hokkaido has the best of both worlds – it's a back country resort serviced by a cable car.
Some say it is Japanese skiing at its best, with waist-deep powder and fresh falls almost every day, but the slopes are definitely not for beginners! Night life and shopping are limited so it is really one for the powder hounds. Asahi-dake Mountain is also an active volcano that regularly emits steam and smoke, adding to the adventure.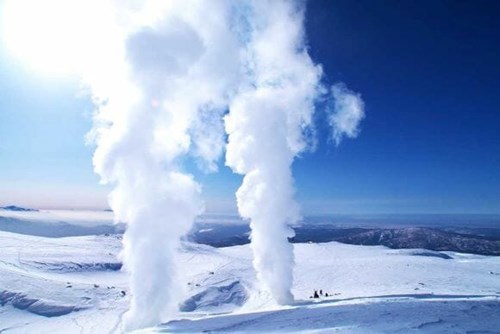 Hakkoda, Honshu is known as the new holy grail of Japan amongst the snowboarding fraternity; an undiscovered ski area of fresh powder and incredible slopes. With no resorts, limited facilities and a tendency to ferocious weather, it's best left to the experienced (there are ropes and one chairlift).
However, if you're up for a back country adventure, Hakkoda boasts a series of outstanding ungroomed runs and an off-piste area of 600-odd metres of drop.
Tip: if you're venturing cross country, book certified qualified legal guides who have the correct insurance for the back country runs and detailed knowledge of the region.
Worldcare Travel Insurance offers a Ski Pack for your travels. Get a quote today!