Traditional Indonesian food is mainly rice with a small amount of protein and vegetables. Indonesian food is usually spicy and quite rich, often fried in oil. Quantities are traditionally small.
Staples are kecap manis (sweet soy sauce) and sambal (sauce made from chillis and a variety of spices, lime juice and vinegar), as well as peanut sauce.
Indonesian food is hot by Western standards, though you can ask the chef tolong jangan pakai cabai/sambal sama sekali (please do not mix chilli sauce at all) or simply tidak pedas (not spicy) if you can't manage very spicy food.
Food is usually eaten with a spoon and fork or the right hand rather than chopsticks.
Authentic dishes to try
Gado-gado rice
Bali's real gado-gado, different from the version usually sold to tourists.
Cubes of dense sticky rice are combined with peanut sauce (peanuts, kecap manis, chili, sugar and spices pounded in a mortar).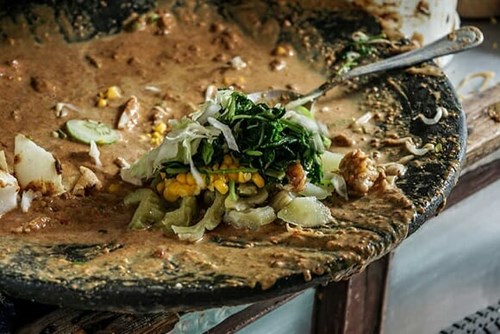 Boiled egg, tofu and/or boiled potatoes, greens and fresh bean sprouts are added and the mix is packed into a banana leaf. Locals eat it with their right hand, but it is OK to use a spoon and fork.
Kerak telor
Kerak telor, a traditional Betawi snack, is made from glutinous rice fried with duck egg, and topped with shredded coconut, fried shallots and dried shrimp.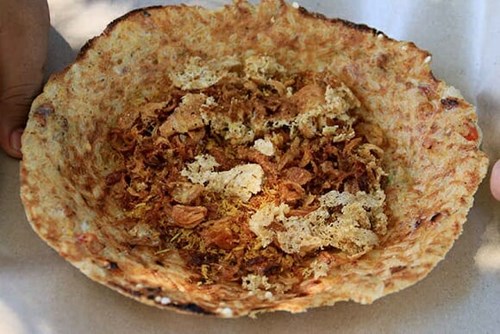 This dish originated in Jakarta and was often considered a party food for the wealthy.
Grilled meatballs
Locals in Malang City know Pac Man, a food stall since 1965, for its spicy grilled meatballs and meatball soup. The meatballs are skewered and then seasoned with soy sauce, ketchup and other secret seasonings, then chargrilled. Delicious!
Bebek goreng
Bebek goreng is also known as nasi bebek or duck rice. Ayam goreng is the fried chicken version. The duck is marinated with galangal, lemongrass, bay leaves and cumin, then crisp-fried in oil and served with white rice.
Coconut fish cakes
Often found in Java, these simple fishcakes are made with white fish, galangal, coconut, sugar, chilli and other spices, then fried and served with cucumber pickle.
Roti bakar
For dessert or breakfast, try roti bakar, a thick toast topped with strawberry, banana, cheese, pineapple and chocolate. Chocolate and cheese roti bakar (melted shredded cheese and chocolate, drizzled with condensed milk) is a popular, if richer, version. You can also add ice cream for extra calories!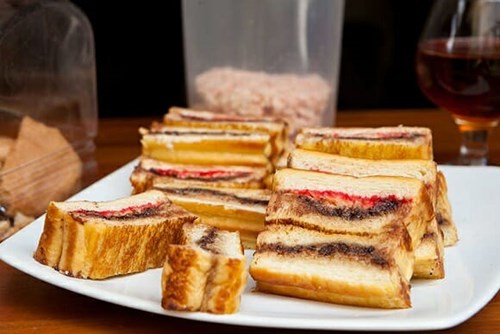 Where To Eat
Medan
Merdeka Walk, across from the main train station, sets up stalls every night that serve authentic Indonesian food. Vendors prepare everything from dim sum to martabak – a stuffed, fried flatbread prepared fresh. Tables and chairs are clean and the floor is tiled.
Bali
Warong Legong
Simple, freshly-prepared, traditional local food in the warong (stall) style, with outstandingly delicious desserts. Try the fresh seafood, cassava leaves and homemade ginger beer. The restaurant also offers cooking classes from time to time.
Sardine
The daily-changing menu serves European and Indonesian fusion dishes sourced from local farmers and fisherman. Vegetables, herbs and salads are sourced form the restaurant's own organic garden in Bedugul.
Eat Healthy
Indonesian food is often fried or served with rich, calorie-laden sauces. If you eat in the portions usually consumed by the locals, this is not likely to be a problem. However, if you prefer to eat less rich food or are watching carbs, there are some options.
Instead of rice to accompany your meat, ask for cha kankung (a leafy green similar to spinach) or cap cay (lightly steamed vegetables that are first sealed with oil and then steamed).
If you want to avoid too much peanut or other rich sauces, the phrase is sedikit saus (a little sauce) or saus sendiri (sauce on the side).
Some restaurants and stalls will grill meat instead of frying – look for the word bakar to check if they serve grilled meat.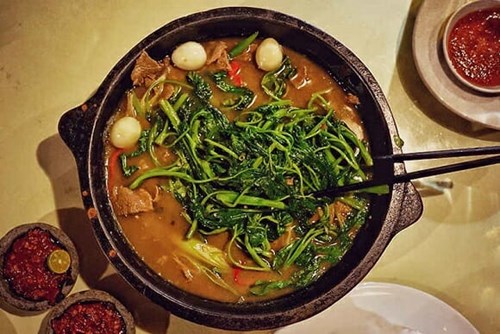 Eat safer
The jury is out on whether to eat roadside. It's the best and most interesting food but is risky too. Most travellers recommend, if you are going to eat from the street, to go to a street store or restaurant rather than a stall as they will have more facilities for hygienic food preparation. If you do eat from the stalls, and many sources maintain that it is safe, choose one that is popular to ensure the food turns over quickly and is freshly cooked.
It's best not to eat food that has been sitting for a while – avoid buffets. Also if you're not blessed with robust digestion, avoid chicken or pork dishes as these are easily contaminated.
The usual precautions regarding avoiding water that has not come from a sealed bottle, including ice in your drinks and for brushing your teeth, apply to Indonesia too.
Before leaving you may wish to consult your GP for a course of antibiotics to take in case of a food-borne bacterial infection. Also, taking probiotics before and during your trip, and using Traveller's Friend (or if you prefer, Imodium) can be helpful in avoiding the worst stomach bugs.
Smartraveller warns of the potential for lethal methanol poisoning from spirit-based drinks, including those in brand-name alcohol bottles. Some symptoms include fatigue, headaches and nausea or pronounced vision problems (e.g. blurred or snowfield vision, flashes of light, tunnel vision, changes in colour perception, dilated pupils, difficulty looking at bright lights, or blindness.) Visit http://www.smartraveller.gov.au/zw-cgi/view/Advice/Indonesia for more information and updates.
Only drink in reputable licensed places and avoid home-brewed alcohol.