Check out our top spots for a beach break in Bali.
Jimbaran
This charming fishing village on Bali's southern peninsula is perfect for seafood lovers. You'll find some great restaurants lining the beach and an excellent choice of luxury resorts.
The bay's white sand beach and calm water make it ideal for swimming, and there are a couple of decent surf breaks that you can reach by charter boat. Stick around in the evening for jaw-dropping sunsets over the water.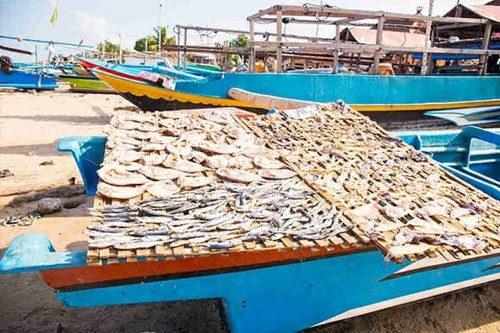 For a tasty meal with a tropical island feel, try the casual Cuca restaurant, where you can choose the live seafood you like, which is then prepared immediately and grilled over a fire of coconut husks. Cuca's tapas plates are also very popular.
Head to the town's traditional fish market in the morning to browse an array of fresh fish and shellfish. You can even get your purchase grilled at the market for a small extra fee.
You'll find some interesting shops and antique stores in Jimbaran, as well as a daily food market. Pay a visit to the Jenggala Gallery, where you'll find exhibitions by up-and-coming local artists and Balinese ceramics for sale.
Seminyak
Part of the Kuta district, Seminyak is a high-end hangout full of luxury spas, designer boutiques, swanky bars and fine dining.
The light grey sand beach stretches as far as the eye can see in both directions, with some good surf spots. Give snorkelling or scuba diving a go and book a course or day trip.
Pura Petitenget is a pretty Balinese temple that hosts fascinating beach-side ceremonies, definitely worth a visit. There has been a temple in this spot since at least the 16th century.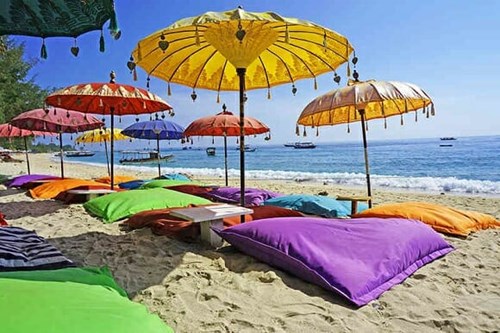 Stay at Oberoi, a prestige hotel with an international reputation for luxury. Spread across 15 acres of tropical gardens, the hotel grounds are dotted with ancient Balinese temples.
La Lucciola restaurant on Petitenget beach in Seminyak's north has been around for well over a decade, and is open for breakfast, brunch, lunch and dinner. It's home to the Frangipani Bar, a great place to watch the sunset.
Seminyak has a lively night life. Pay a visit to the well-known Ku De Ta bar and soak up the resort-style atmosphere on the beach which has earned cult status and a place on many magazines' 'top party spot' lists.
Lovina Beach
If you're after something a little quieter and off the beaten track, try Lovina, a coastal strip in Bali's north. The area is home to a number of tiny fishing villages.
Lovina's name has a feel-good eco meaning: 'Love Mother Earth'. 'Lov' comes from the English word 'love' and 'Ina' is a Balinese word that means mother.
The beaches are ideal for swimming and leisurely walks along the sand, with crystal-clear, calm water and striking black sand. Take an early-morning boat trip off the coast to see dolphins swimming and playing.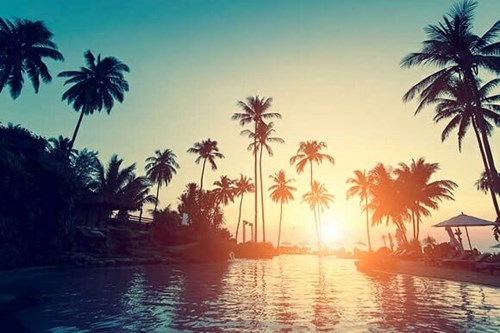 Bali's largest Buddhist monastery Brahma Vihara Arama, near the village of Dencarik, is a fusion of styles. It features a classically Buddhist orange roof and numerous gold Buddha statues, plus Balinese-style carvings and ornamentation.
Stay at Lilin Lovina Beach Hotel, with beachfront villas, private plunge pools, garden courtyards and beachfront lounges. For a more budget-friendly option, check out Puri Manik Sari Hotel, with bungalows, a Balinese garden with mango trees, a fish pond and coconut trees.
For lunch or dinner try Kakatua restaurant, a favourite with tourists. You can watch the food being prepared and cooked from fresh ingredients. Kakatua has a varied menu, friendly staff and live acoustic music every night.
Stay Safe
Protect yourself against crime
Opportunistic theft and pick-pocketing occurs in Bali, particularly around busy tourist destinations. Thieves on motorcycles may snatch handbags or backpacks from pedestrians. So keep your valuables close to your body, or in the hotel room if possible.
Just like in Australia, credit card and ATM fraud can occur in Bali. Try to use ATMs in secure locations like banks, shops or malls and keep an eye on your transaction history and bank statements.
Always keep your passport in a safe place and report a lost or stolen passport to the Australian Embassy as soon as possible.
Only use official taxi companies that can be booked by phone or from stands at major hotels or inside airports.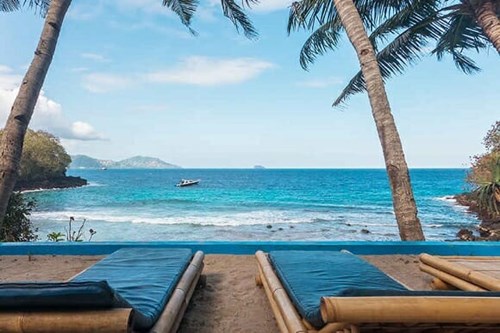 Drink smart
Avoid spirits and spirit-based drinks like cocktails, as they can be adulterated with methanol, and opt for sealed drinks where possible. Choose reputable licensed premises and avoid home-made alcoholic drinks.
Keep a close eye on your drink or ask a friend to watch it for you if you leave it unattended, to protect against drink spiking.
Stay away from 'bucket drinks'. As they name suggests, they are very large, very strong and vulnerable to contamination or spiking.
Swimming and sun safety
Observe the same beach safety precautions as you would in Australia and don't dive into water unless you're sure of the depth.
Stay out of the sun in the middle of the day and slip, slop, slap to avoid sunburn and heatstroke.
As well as sun protection, covering up with long, loose-fitting clothing has the added benefit of protecting against insect bites that can carry illnesses like malaria and dengue fever. Of course insect repellent is a lifesaver too!